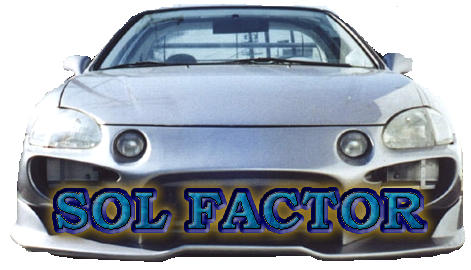 MAIN MY DEL SOL GALLERY POLL RESULTS LINKS
---
9/15 - Whoa! How long has it been since I updated this page? Sorry for the wait Guys/Girls, I have made minor updates , but the rest is on the way. I just moved from S.F. to San Jose area. What a change! Well, while I'm trying to get to know the area I'll also be posting updates on the site. Hope everyone haven't forgot about me yet! Thanks for your visit and have fun driving your SOL!!
P.S. I want to thank those who submitted their Sol Pics and I hope to see more coming! Thanks!
WHAT'S NEW?

9/16 - Poll results are in!
9/16 - Sol Gallery has been updated.

NEED PICTURES!!

I need pictures of your Del Sol to be placed in my Gallery Page!!! Submit your pictures to marcus@delsol.bizhosting.com Sorry! JPEG or GIF format only!

WANT TO SEE?

What do you want to see on this page? E-mail me at marcus@delsol.bizhosting.com

Coming Soon!!

MORE pictures and links! Check back for updates!!!

Tell me what you think!
| | |
| --- | --- |
| | Copyright © 2000 Sol Factor. All Right Reserved. |